Filter/Search Ads
Show on map

Viewing all ads (216)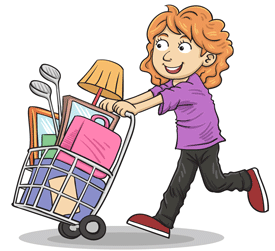 6/10/2017 - 951 Hamilton Drive, Pleasant Hill
8 AM to 3 PM - everything priced to sell! Tools, animal/pet items, collectables, kitchen stuff, patio table and chairs, outdoor fountain, holiday items, office/school supplies,
frames and photo albums, treadmill, china and crystal, storage units, lawyers bookcases, sleeping bags, tents, upright freezer, 1925 Singer sewing machine with original table, 1966 Ken & Barbie dolls with lots of clothes, linens, picture frames, photo albums, garden art and pots, tons of misc. and free items. Lots of good, oak furniture. Cash only, please. Don't miss this one!
6/10/2017 - 1915 Strayhorn Road, Pleasant Hill
9 am to 4pm
dishes, glassware, table top decor, table linens, and more
gardening items, lawn and garden decor, fairy furniture
jewelry
picture frames
desk/shelving unit
lateral file
6/10/2017 - 336 Belva Lane, Pleasant Hill
Starting at 8am, everything priced to sell. Fire wood, glassware, home decor (including picture frames), kids toys, chairs, games, costumes. Well rounded selection!
6/10/2017 - 2055 Morello Avenue, Pleasant Hill
Our charity garage sale benefitting the Leukemia & Lymphoma Society's Team in Training starts at 9:00 a.m., closes at 2:00 p.m.

Home décor, kitchen items, furniture, artwork, and so much more! Find a treasure and support a great cause.
6/10/2017 - 337 Belva Lane, Pleasant Hill
8am - 12pm
Via Velo bike trailer, Karaoke machine, Large art, Small art, Wine rack, Computer monitor, iPod alarm clock, Kids swing for tree/play structure, Small steam cleaner, Games, Rocking horse, small shelves, Clothes, Set of billiard balls, Frames, Toys, Home decor, kids stuff (boys 2-5) and books. GREAT PRICES!
6/10/2017 - 1910 Strayhorn Rd, Pleasant Hill
Moving- all must go. Great treasures to be found!
June 10 - 11, 2017 - 98 Sylvia dr, Pleasant Hill
From 9am to 3pm. Toddler clothes, women clothes, women shoes, books, toys, baby items, toddler swim jackets, stuff animals, adult pads, and lots of stuff.
6/10/2017 - 110 Jackson Way, Pleasant Hill
8 AM - 2 PM. Household & kitchen items, furniture, knick knacks!
6/10/2017 - 110 Bramblewood lane, Pleasant Hill
Two person swing set with upgraded canopy.
6/10/2017 - 172 Jennie Drive, Pleasant Hill
Times: 8:30 am- 3 pm
Please contact Donna 925.785.5120

Boys/kids/toddler: clothing, TONS of various toys (legos, lots of games, books, mini remote control stuff ) some jr lacrosse gear, inflatable boats w/ores, very nice bean bags(1 black 1 navy)...
Women: jewelry, clothing, shoes
Men: misc tool items
MISC: baskets, paintings, mirrors, holiday stuff, coffee maker, car booster seats x 2, deep fryer, mini refrigerator, picture frames, tons of old cassette tapes
Any janet Jackson fans? lots of stuff...

Furniture: light oak entertainment center, fish tank (12 gal), 3 piece red PBkids unit, small 3 drawer night stand,
Patio umbrella
Large speakers

much more....!
6/10/2017 - 1872 Lucille Ln, Pleasant Hill
Collectibles, tools, housewares, misc items. Starts at 8 AM
6/10/2017 - Carolyn Drive, Pleasant Hill
6/10/2017 - 1912 Strayhorn Road, Pleasant Hill
9:00 -- 3:00
lizconcept@sbcglobal.net

1.) JVC phonograph & receiver (vintage 1981)

2.) Christmas Decor

3.) Collectibles (misc.)




6/10/2017 - 1004 Esther Dr., Pleasant Hill
8 am - 3 pm. Pedestal sink, cheap furniture perfect for refinishing projects, solid wood doors, misc. housing items such as curtain rods and other decorative items.
6/10/2017 - 130 Beverly Drive, Pleasant Hill
6/10/2017 - 167 Beverly Drive, Pleasant Hill
8 a.m. to 11 a.m. Bikes, new queen mattress and box spring, oak furniture, electronics, clothing, books, shoes, toys, kitchen, household, sweet deals CASH ONLY
6/10/2017 - 2029 Westover Dr., Pleasant Hill
FAMILY SALE with furniture (desks, shelves, and more), small household items, lamps, decorations, antiques, picture frames, tablecloths and other linens, dishes, serveware, and so much more!
6/10/2017 - 165 Pleasant View Dr., Pleasant Hill
8:00-11:30

Round wood table and 4 chairs
Toddler slide
Pottery Barn curtains and curtain rods
Space saver high chair
Diaper bag
My breast friend
Humidifiers
Women's clothing size small/ medium (Banana Republic), Shoes size 6
Boys size 2T clothing
Rossignol ski boots size 6
Spyder ski jacket
Monster High dolls
Tennis racket
and more.

Plus lots of miscellaneous FREE items.
6/10/2017 - 1883 Elinora Dr., Pleasant Hill
20-year paper crafter and 6-year Stamping' Up! demonstrator with lots of Stampin' Up! retired and hard-to-find clear-mount rubber and photopolymer stamp sets, tools, papers, and other goodies, as well as a Sizzix Vagabond electric die-cutter machine still in its original packaging. I've been cleaning out my studio for weeks!

If you want a sneak peek, you can visit my Etsy shop online -- quirkynberkeleytoo.etsy.com. The prices will be a bit lower for garage sale attendees -- and, there will be no shipping charges!
6/10/2017 - 3103 Diablo View Rd, Pleasant Hill
9 AM to 2 PM
Pop up tent trailer
Honda Oddysey van
Several Girl's jeans and shorts Hollister etc.size 12 and 14
Bike trailer kidarooz
Wood picnic table
Desk
Black futon frame
Adarondack chairs
Furniture


6/10/2017 - 905 Hamilton Dr., Pleasant Hill
The twins are 1 so we are selling all of their baby clothes and supplies!

- Boy and Girl clothing preemie to 12 month sizes
- Jumper
- 2 Bouncer chairs
- Boppy and Breast feeding pillows
- Maternity Clothing
- Toys and books
- hooded bath towels
- blankets
- Carriers
6/10/2017 - 103 Hubbard Avenue, Pleasant Hill
We will start at 8 am and be done at 2 pm.
[if you come early ... you will be taking a great risk ... ]

One free toy to everyone that comes (adult and child)!

We will be cleaning out the usual places: kitchen, garage, garden shed, closets, game shelves (we have lots of games), puzzles, some clothes and some books.

Clothing is mostly womens size 20 - 22, 1X - 2X.

There will be collectible toys: Action Figures that many Adults like to collect.

COMIC BOOKS!
Sonic X (#1-40 ... the entire set);
Sonic the Hedgehog (#112, 120-123);
Sonic Universe (#1-28);
Bionicle (#0, 12-17); Bionicle Glatorian (#2,5); Bionicle Ignition (#0, 2, 4, 10)

There will also be a large variety of children's toys and games and some will be at very very low 'give away' prices.

Nearly everything is in excellent condition ... we take good care of our 'toys' of all kinds and ages.

FREE stuff! Patio umbrella, useful saved wood, miscellaneous.
June 10 - 11, 2017 - 327 Gladys Drive, Pleasant Hill
9am - 3:00 pm - * Motorcycle TTR 125 LS electric start motorcycle (green sticker). Motorcycle helmet (S), chest protector (S) and gLoves (S). * Youth wake board, life jackets, and S12-15 body glove. * SKi jacket (8), pants (6/8) and youth gloves. Snow sleds.
In very good condition: Magic cards, game boards, child and youth books. Kites, Pogo stick, Fish tank
Household items: Freezer, New cutting boards, Juicer. More items.
Computer keyboards, radios. Halloween and Christmas items.
Music intrument - violin
6/10/2017 - 25 Richie Dr., Pleasant Hill
We will be starting at 9:00 am with furniture, end tables, small vintage couch, wood wardrobe, vintage wooden oak dresser, art supplies, airbrush gear, iwata air compressor, women's vintage 60's 70's 80's and more. Cowboy boots, leather boots, burning man costuming, vintage fabrics, kids toys, toddler and little boys clothing. Books
June 10 - 11, 2017 - 378 Odin Pl, Pleasant Hill
8am to 2pm. 2 pairs of Infinity bookshelf speakers, Kraftsman air compressor, Technics multi CD player, Sherwood surround sound receiver, 22 inch flat TV, Stereo cabinet, Furman 14 plug power conditioner, children' & women apparel, shoes & handbags
6/10/2017 - 10 Greenwood Ct, Pleasant Hill
9am-1pm

Luggage, Golf Clubs, Mens and Womens Shoes, Baby Items,

LOTS OF FREE STUFF!!! Come by and take a look!!!
6/10/2017 - 376 Christen Drive, Pleasant Hill
Huge eclectic yard sale! 8am-2pm Fishing tackle, clothing, antiques, furniture, window treatments, toys, electronics, books and movies. Something for everyone! Come find your treasure :)
6/10/2017 - 1002 Santa Cruz Drive, Pleasant Hill
We have ANTIQUES. Steamer trunk plus two other real wood trunks, crystal everything, copper gas laterns, copper set mule mugs and pitcher, custom stain glass horse picture, 2 glass dolls, vintage corchet set in original box, eliptical barley used, works about 3 years old, black and decker work bench, chocolate brown good condition directors chair tall. Many other misc stuff.
6/10/2017 - 139 Flame Dr, Pleasant Hill
9am - 3pm. Dresser, Chair and a half with twin bed, Wireless pet fence, Secure mailbox, Rowing machine, Yamaha 5.1 surround sound receiver and speakers, Tire chains,
6/10/2017 - 407 Gladys Dr, Pleasant Hill
8 AM TO 4pm OLD SMOKING PIPES AND HOLDERS,GOLF CART,SCOOTER,LAWN MOWERS,PLANTS,BOOKS,CLOTHES,LOTS OF TRESURES.
6/10/2017 - 230 Twinview Dr, Pleasant Hill
Furniture and décor items galore!
We have very nice furniture for sale that is all in great condition (Crate & Barrel, Basset, Cost Plus). Amazing deals...! We also have home décor items, misc household items and baby/children clothing for sale. Don't miss out!
Hours: 9:00am - 4:00pm
6/10/2017 - 52 cleopatra drive, Pleasant Hill
7am-3pm
We will be offering coffee/water/soda for $1

Offered for sale:
weed wackers, lots and lots of tools, ping pong table, outdoor heat lamps, stereo, luggage, xmas decorations, art, ladder, outdoor furniture set, clothing/shoes.
6/10/2017 - 505 Camino Las Juntas, Pleasant Hill
House for sale as we are downsizing after 35 years. Many items for sale including items which have never been used. Garage sale hours are 10AM until 3PM. Please come by during your garage sale visits.
6/10/2017 - 307 Belva Lane, Pleasant Hill
chairs, adult and children clothes, books, kitchen utensils, bike and more... much more!!
6/10/2017 - 721 Harvard Dr, Pleasant Hill
9am -4pm Estate Sale . Vintage items ( 70's /80's Clothes, Records, Microwave Dinning room Hutch, Old vintage reclinder chair . Vintage Suitcases Kitchen appliance's and a Vintage Royal Typewriter. We also have Kitchen items ,Meat Slicer, Bed Sheets , Tablecloths Fireplace tools , Tripod . DVD's .Cat play tower Glassware . Lots of new and slightly used Men's and Women 's clothing . Costume Jewerly .Ceiling Fan's Hardware items . Too much to list come by and see What we have . Any questions please email me @ cardshops66@hotmail.com .Thankyou Martine and Mary. Call me 925202-8009 if you are interested in a certain item
6/10/2017 - 41 Morello Ct, Pleasant Hill
Come join us and look to find many items available
Family garage sale:
times 8:00-3:00pm 41 Morello Ct pleasant Hill
Cash only please
Kids clothes and shoes newborn- 2T
Toys and baby items
Women's clothes and shoes (many dresses)
Beauty supplies
Men's clothes and shoes
Household decor & supplies
Lemonade stand too ;)
6/10/2017 - 1901 Elinora Dr, Pleasant Hill
Huge Yard Sale 8:00 AM - 2:00 PM

Lots of kids items - TOYS (Disney, My Little Pony and more), books, games, baby items, girls clothes (newborn to size 7)

Also - Household items, a set of bar stools, holiday decor, women's shoes and clothes
6/10/2017 - 109 Lupine Ln., Pleasant Hill
Glass top/Wrought iron coffee table, 12 Mikasa crystal wine glasses, great decorator items, Beautiful 1930's dining Set ( 6 Chairs, Hutch, Buffet and table: excellent condition)
30 inch SONY flat screen with stand

9-2pm
6/10/2017 - 1461 Cloudview Drive, Pleasant Hill
9:00 A.M. - 2:00 P.M.
Vintage cookbooks, collectible glass shoes and perfume bottles, glassware, china, jewelry, kitchen items, tools, and much more
6/10/2017 - 345 Gladys Dr., Pleasant Hill
8am - 2pm. This is bigger than a garage sale! It's a
6/10/2017 - 321 Gladys Dr., Pleasant Hill
Yard sale! 8am - 3pm
Come on over to check out our gently used kids clothes, toys and games, adult clothes, books for all ages, kitchen items, and more.

6/10/2017 - 124 Luella Drive, Pleasant Hill
8-5pm Sat / 8-2pm Sun

duo-sofa set (inside; ask to see them)
3 oak chairs
3 space heaters (new)
computer desk chair
kitchen cabinets (new-in-boxes; ask to see them)

90+ long-sleeved (w/collar) men's shirts
30+ long-sleeved (w/o collar) men's shirts
40+ short-sleeved (w/collar) men's shirts
20+ short-sleeved (w/o collar) men's shirts
numerous women's blouses/tops

cooking utensils; glasses, mugs, and cups
silverware-sets
hanging metal baskets
stainless steel silverware tray
knife-sets
"George Foreman" grills (each used 2-4 times)
glassware (platters/dishes/bowls; candle holders, vases)
toaster (two-slicer with a fixable lever issue)
toaster-oven
electric food steamer
crock pot

gas-powered mower
gardening tools

board & card games
6/10/2017 - 314 Mercury Way, Pleasant Hill
8:00am-2:00pm. Baby boy clothes, girl toddler clothes, tons of baby & kids toys, home decor, and some adult clothing. Everything is in GREAT condition!
6/10/2017 - 130 Coats Circle, Pleasant Hill
8:00am-12:00pm. Lots of misc. household items.
6/10/2017 - 96 Greenock Lane, Pleasant Hill
8:00 am - 1:00pm

2 mahogany pineapple twin bed frames/4 posters; linens; twin bed wicker headboards; microwave oven; 2 drawer black file cabinet; new heater, remote control helicopters & misc.
6/10/2017 - 31 St George Ct, Pleasant Hill
All items are excellent, good prices but not giveaways. Antiques, adult clothes name brand, suites, Gucci shoes etc.
6/10/2017 - 493 Malaga Way, Pleasant Hill
Tools, light fixtures, clothes, misc stuff.
6/10/2017 - 109 Hawthorne Dr., Pleasant Hill
Art supplies, Halloween, vintage paper, household items, clothing, junk jewelry.

A piece of vintage assuit, 7' X 18"
6/10/2017 - 111A Price Ln, Pleasant Hill
Clothing, small appliances, furniture
6/10/2017 - 290 Croyden Dr, Pleasant Hill
8 am-12 noon No early birds. Items include:furniture, garden & garden furniture, kitchen appliances & glassware,
fitness items,clothing,tools & hardware, toys & board games, sports memorabilia,bar signs,books, &automotive items.